Groundbreaking Free Features of Our inDriver Clone App
That Others Charge For
White-labeling

Our technical team will white-label the apps, website, admin panel, and other supporting panels with your branding. We will integrate your brand name and logo, plus change the color theme.

Live Tracking

Your users can track their taxis or parcel delivery drivers in real-time on the in-built map.

Multiple Payment Options

The app allows users to choose one of the two online payment methods: credit/debit card or in-app wallet, or simply select the cash payment option.

Preferred Currencies & Languages

We will integrate your preferred languages and currencies into the application to make taxi or parcel delivery service booking easier for your users.

App Submissions

Our technical team will submit your apps to the Google Play Store and Apple App Store for no additional cost.

Annual Upgrades

After a year of launching your app, we will send you its updated code depending on the package you purchase from us. code,
Invest in the Best inDriver App Clone Script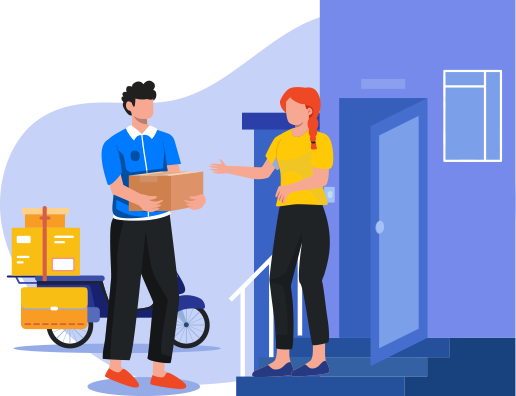 Our industry experts have worked day and night to build the most perfect and advanced script so that entrepreneurs like you can launch their inDriver Clone apps in no time.
The solution we've built matches the high-end quality of the original apps. With our app, you can provide a seamless platform for taxi booking and parcel delivery services to your customers in just 1-2 weeks. If you're curious to start your online business or expand one, you must get our ready-to-go package.
Here's the list of key scripts you get with our package:
Demo of our inDriver-like Taxi Booking and Parcel Delivery App
Want to know how our taxi plus parcel delivery app clone works? Watch the real-time working demo video to learn about our app's features, interface design, and workflow.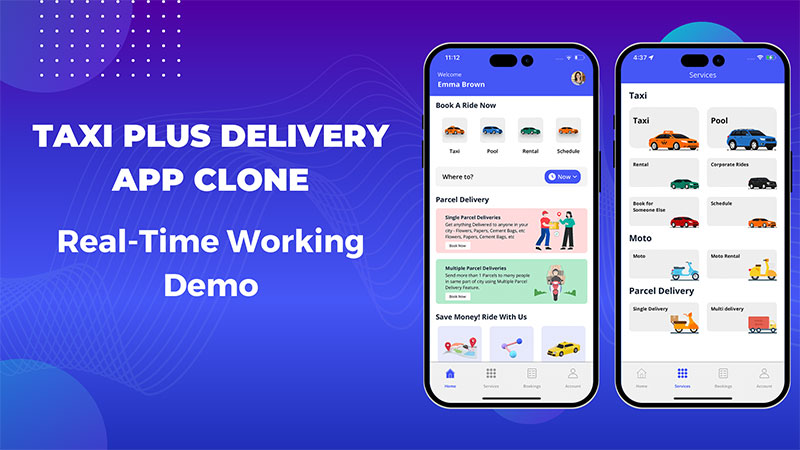 How Does the Advanced inDriver Clone App Work?
Taxi Booking Workflow

Login/SignUp: Users can use their Face ID, fingerprint, or valid credentials to log into the app. To sign up, users need to create an account on the app using their phone numbers, social media accounts, or email.
Book the Taxi: Users need to enter their pick-up location and the destination, choose the taxi type, and tap 'book now' to send a ride request to nearby drivers. They can also schedule a ride by tapping on the book later option and selecting their preferred date/time.
Pick-up: Any nearby driver who accepts the ride request arrive's at the rider's pick-up location, verifies the OTP, and starts the ride.
Drop-off: The driver marks the trip as 'Ended,' once they drop off the rider at their destination.
Payment: After the trip ends, an invoice is generated, and the user pays the taxi driver using their chosen payment method.
Rate & Review: After the payment process, the user and the driver can share their ratings and reviews.

Parcel Delivery Workflow

Login/SignUp: Users can use their Face ID, fingerprint, or valid credentials to log into the app. To sign up, users need to create an account on the app using their phone numbers, social media accounts, or email.
Select the Delivery Service: Users can select the parcel delivery service on the application and proceed to place their order by selecting a single or multiple delivery options depending on their requirements.
Place the Order: The user can now select their desired payment method and delivery address and tap on Book Now to place their delivery request.
Driver Accepts the Request: All the nearby parcel delivery drivers receive the service request. After one of them accepts the job, they will be directed to the user's address to pick up the parcel.
Live Tracking: Users can track the parcel delivery driver's location in real-time.
Service Completion: The user immediately receives a notification when the parcel is delivered to the recipient's address.
Payment: After the service is marked as 'complete,' an invoice is generated, and the user pays the delivery driver using their chosen payment method.
Rate and Review: After the Parcel Delivery, Delivery Driver can rate User based on their experience.
4 Steps to launch your own Ride Plus delivery App
01

Why trust us blindly when you can try out our product? Check out the live demo of our app on road before you spend a dime on it! To try it out, first download the Cuberideplusdelivery demo app from the app stores and then take it for a live test to get a feel of the same.

02

The original setting of the app offers the regular language of English. The original currency that is included is USD. However, if there is any change that you want in this, we will give you an additional language as well as currency incorporated within the app absolutely free.

03

You can send us your Server & Play Store details anytime after you make the purchase at your convenience to help us ready the apps with your logo/brand name and upload/configure them.

04

In order to make certain that you can start adding money to your bank accounts from the moment your app is launched, we launch it on the app stores completely rebranded as your with your logo and company name.
Robust Website and Admin Panel
We provide you with a feature-rich website and admin panel alongside our user-friendly iOS and Android apps. We have designed the website to help your users register with the platform effortlessly, manage their profiles, view your privacy policies, read FAQs, find your contact details, etc. To easily browse the website, it also integrates the option to choose their preferred languages and currencies. Using the same website, users, drivers, and fleet/parcel delivery companies can log in, register, and manage their accounts. Also, the system supports web booking to help users request a ride even without the application.
The Admin Panel, on the other hand, enables you, the super app administrator, to monitor their servers, manage their users, set their commissions, access earning reports, and much more. One single dashboard integrates a handful of useful features, helping you control all your business activities with just a few clicks!
Explore the Flow of the Website and Admin Panel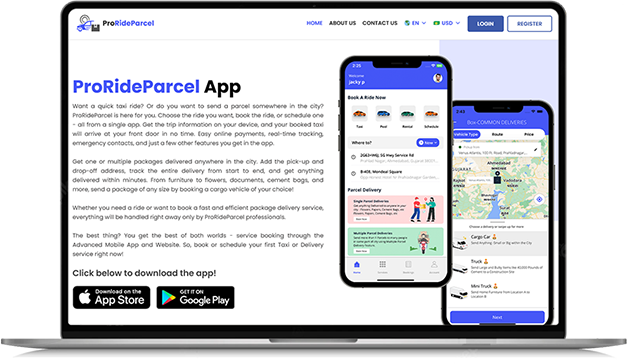 What's the Cost of Developing an On-demand inDriver Clone App?
Developing an inDriver-like taxi and parcel delivery application using a pre-built solution takes no more than a fraction of the cost of building the same app from scratch. Well, that is the beauty of buying a ready-made solution! To launch your on-demand application without splurging all your hard-earned money, invest in a market-relevant and pre-built solution like ours. Check out our Pricing Page for more details about our Pro Package!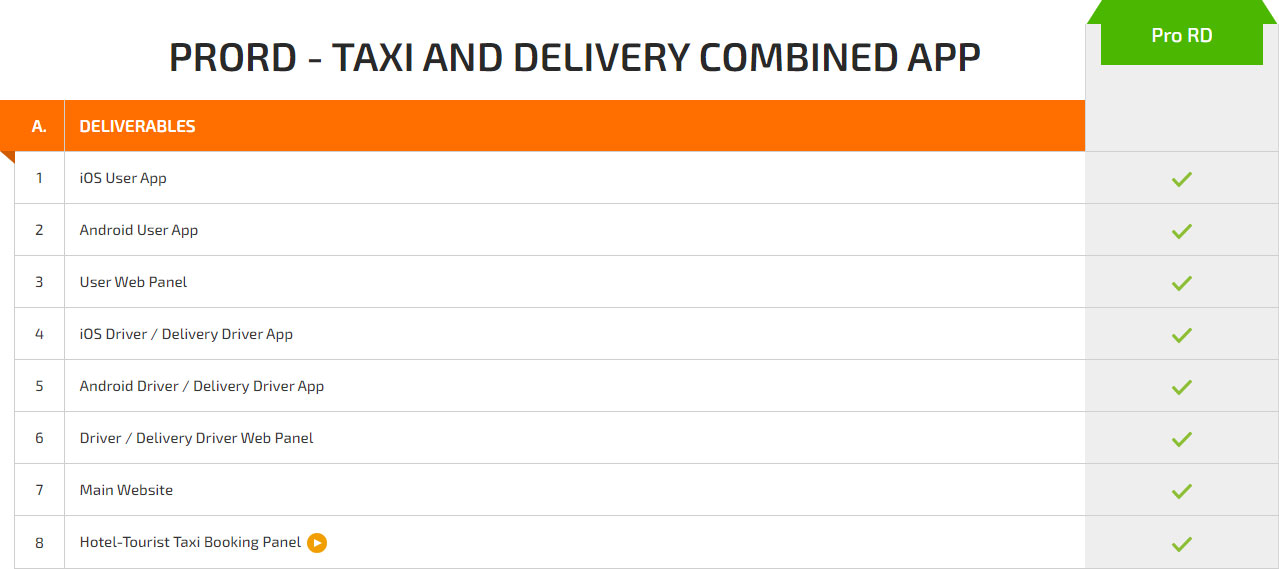 View Features & Pricing
Major Features
Multicurrency/ Multilanguage

We add an additional language and currency as per your requirement at no additional cost.

God's Eye View

We add an additional language and currency as per your requirement at no additional cost.

Use Cash, Card or eWallet

Your app will have the payment options of cash, card or in app wallet.

Real Time Tracking

Track the rides and deliveries in real time with this feature.

Book Now or Schedule for Later Feature

You can give your customers the option of scheduling rides immediately or at a later time.

Promo Code and Referral

Reward and referral programs allow you to catch the attention of more and more users towards your app.
Watch Real Entrepreneurs Cheer For Us!
Why Launch the inDriver Clone App?
Modern-day customers need the convenience of booking rides and even sending parcels right at their fingertips. Honestly, people don't have time to chase the taxis or deliver parcels across the city themselves.
And so, to help you launch a much-in-demand app, we have designed and developed an advanced inDriver Clone App.
What is an inDriver-like App?
inDriver Clone is a ride-hailing plus parcel delivery platform. It allows users to book taxi rides, taxi pools, rentals, and other scheduled rides. In addition to that, the app enables users to send or receive parcels like flowers, construction materials, books, furniture, and so on. They can book single or multiple deliveries, choose the vehicle depending on the package, and also select the payment method of their choice.
In short, the inDriver Clone application is purely a convenient platform for people to fulfill their taxi booking and parcel delivery needs!
Why Should You Launch an On-demand Logistics App Like inDriver?
Besides offering your customers an advanced platform for taxi ride booking and parcel delivery, there are several other reasons why launching this app can be beneficial for your business.
Let's explore some of those key reasons:
Easy profit earning: By launching an on-demand app like inDriver, you will be able to make easy money from multiple revenue streams. You will earn commissions on every ride and delivery service booked on the platform. Furthermore, you will earn more through surge charges, cancellation charges, and third-party in-app advertising.
Wider customer reach: Launching a mobile application comes with the benefit of reaching a wider audience as compared to the traditional, offline business model. Therefore, by going live with your inDriver Clone app, you can target a bigger audience and also grab their attention, get more business, and ultimately, earn more!
Improved business efficiency: With a technologically advanced mobile app for taxi and parcel delivery, you can make your business more efficient. The app will increase your productivity, enhance customer engagement, and also help boost brand loyalty.
Reduced overhead costs: The on-demand app will eliminate the need to hire in-house delivery partners and taxi drivers. Individuals with their own vehicles, willing to work as delivery or taxi drivers, will register on your platform and complete the gigs they get. They will receive payments for the jobs they complete in return for a reasonable commission for using your platform.
Access to valuable data insights: By launching a mobile application for taxi booking and parcel delivery, you will be offering your users much convenience along with gathering useful data from them. The data comprises of user behavior, their preferences, spending patterns, etc. You, as the app owner, can access these valuable insights anytime and use them to improve your business operations.
Automated operations: Another reason why you must launch an inDriver Clone is that it will automate your business processes. You will never have to worry about invoice generation, assigning drivers/delivery agents, collecting cash, creating reports, and so much more.
What Essential Features Should You Integrate into Your inDriver Clone?
We understand that modern problems need modern solutions, so we have added a few essential features to your platform that you shouldn't miss out on.
When launching your application, try to integrate these features to elevate your platform:
Invite Friends: Users can send an invite code to their friends and family members. Every time someone uses their code to book their first service on the app, the user will receive monetary benefits!
User Preferences Option: The feature is available for taxi ride booking services. When booking a taxi ride, users will be able to set their preferences for female drivers (for female riders), vehicles with handicap accessibility, and a vehicle with child seat accessibility.
Location-Wise Push Notifications: The app admin can choose to send push notifications to users of a selected location. These notifications will appear on the user's local screen, and by tapping on them, they will be redirected to the landing page with more information about the offer or service.
There is no doubt that people want easy and convenient platforms to book taxi services and parcel delivery. Even the statistics say that the forecasted market value of online taxi services will reach $56.37 billion by 2027. On the other hand, the parcel delivery market will nearly reach $622.69 billion by 2029.
In short, this is the best time to enter the dominant markets with your inDriver Clone. If you wish to learn more about our ready-made app or quick white-label and launch process, reach out to us right away!
To see if our pre-built solutions are a good fit for your business, try our demo app as well (P.S., we provide an unlimited trial period!)