Make Easy Profits With UberEats Clone
Are you eager to kickstart a food delivery business and earn fast cash? We have just the right solution for you! With our pre-built solution, your users can order food from nearby restaurants and get doorstep deliveries while making money on each of these orders! Our on-demand food delivery application incorporates multiple revenue-generation methods. The UberEats-like solution is designed to bring money into your business even when you're asleep.
Let profits roll in via:
Food Delivery App Flow
Step-by-step workflow of our UberEats Clone Application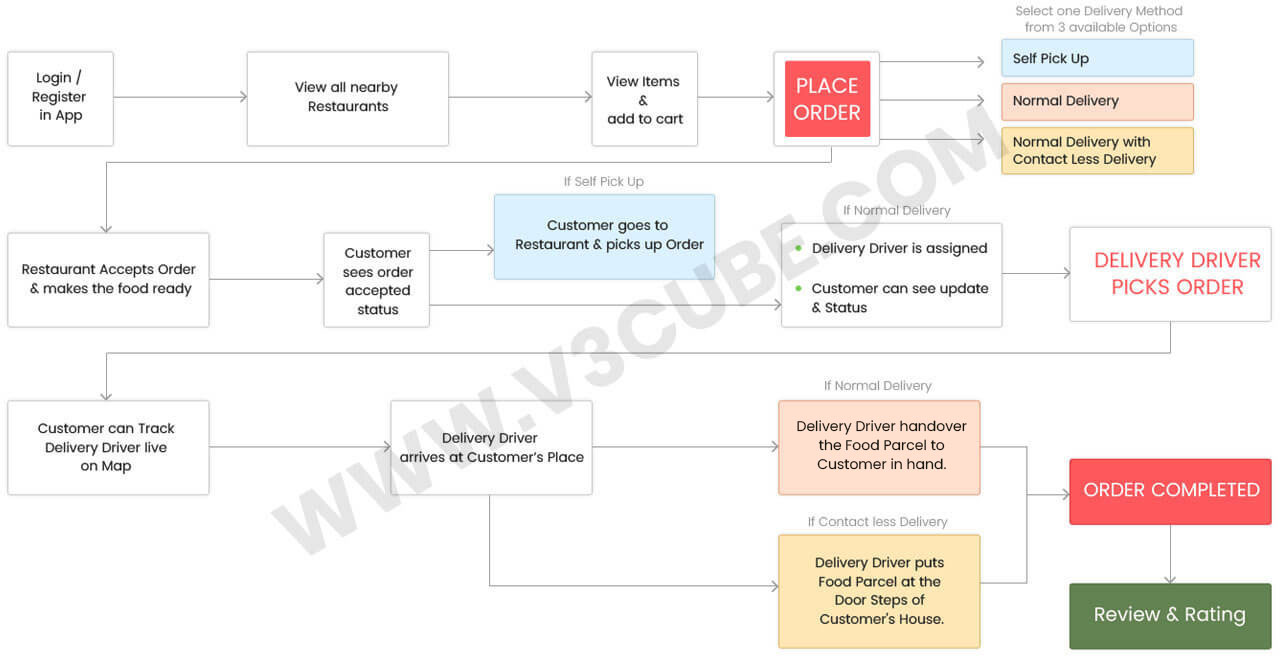 Innovative Free Features offered by Food Delivery App Development Company
Why choose a Food Delivery App Development Company?
Single Restaurant

If you are a single restaurant, you can launch the app and start an online delivery facility.

Food Chain

If you run a chain of restaurants, launching the application will help you reach more customers and automate your business further.

Cloud Kitchen

You can say goodbye to expensive in-house delivery drivers. Additionally, with the help of this app, you can streamline your business and manage everything, including takeaways, cash orders, timing, etc.

Food Delivery Startup

If you wish to start a food delivery business, you can launch the app and manage all the restaurants, users, and delivery drivers from a single dashboard.
What's Included in Our On-demand Food Delivery Solution?
With the purchase of our UberEats Clone Script Package, you don't just get iOS and Android applications! We offer you an entire solution so that you can kickstart operating your food delivery business easily and quickly, within just 1-2 weeks!
Each of our scripts we offer is designed and developed by professionals, pre-tested, and incorporates top-notch features! Here's everything you get with a one-time investment in our pre-built solution: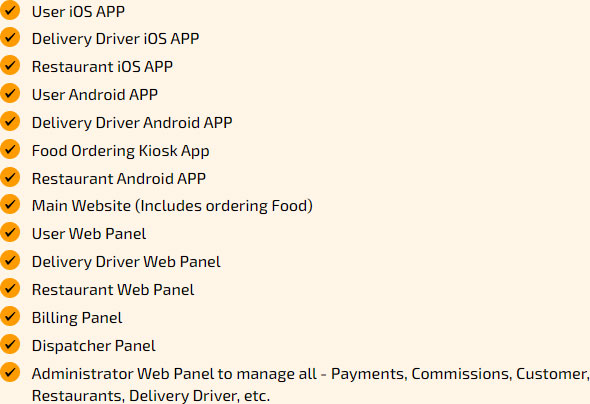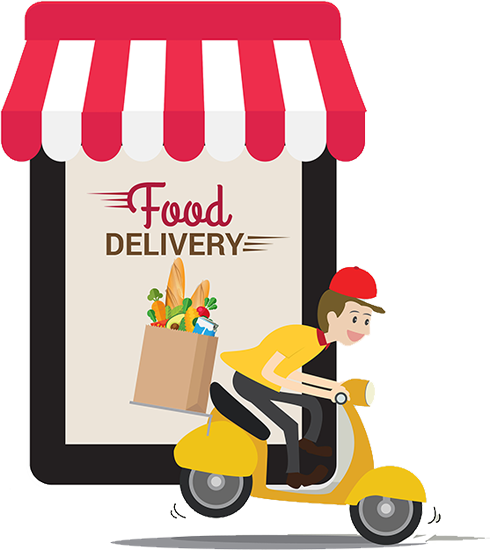 Multiple Order Placement Channels
Apart from the mobile application, your users can place their orders through various different channels.
Working Demo of Our Food Delivery App
Watch the real-time working of our demo UberEats app. Glance through its advanced features, functions, and user-friendly app interface.
Screen Flow of Our Intuitive Food Delivery App
Customer App
Driver App
Restaurant App
Website
Admin Panel
Self-Ordering Food Kiosk Solution
Our Self-ordering Kiosk Food Application is designed keeping in mind "The New Norm - Social Distancing". Now that restaurants are finally opening up with limited entry, and meanwhile, Entrepreneurs looking out for the opportunities to multiply their revenues via On-demand Food Delivery App – buying our FOOD KIOSK SOLUTION guarantees to grow your cash flow.
Self-ordering Food Kiosk Solution increases more walk-in and takeaway order keeping social distancing in place.
Modern Highlights Of Our Food Kiosk Solution
100% owned to your business brand
Effortlessly runs on any Android devices
You will get 6 mobile apps over IOS/Android, 3 level web-based admin panel, website restaurant including KIOSK Food Application
Well-designed, built-in features include Dine-in, Take Away & Delivery
Easily manages the take-away and delivery orders without needing the staff
Option to print receipt in Kiosk, Cash/Card, etc.
You will have complete control over your business activities. Admin panel to manage Food Menu, Orders, Customer data, etc. on-real time basis
The solution is personalized end-to-end to make it go in line with the food delivery app.
100% user-friendly - feels amazing ordering effortlessly via large-screen displays
Customers' orders more when they see the full menu in one place.
One-time development investment - if u wish to keep this pointer.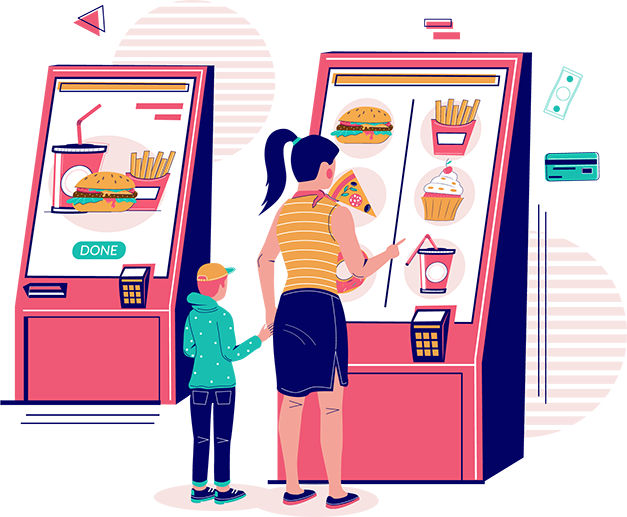 Why Launch a Food Delivery App Like UberEats?
If you are looking for a proven business solution that helps you generate money and find quick success, our UberEats Clone app is for you! Our ready-made app is meticulously crafted to help your users find restaurants near them, browse their menus, and place their orders online. Moreover, by launching the on-demand app, you can make easy money on every order placed through the platform.
The admin panel makes it easy for you to manage all your business activities in one place. From managing user profiles, deliveries, and transactions to accessing earning reports, managing offers, commission rates, and more, the administrator panel is equipped with every essential feature and function.
When you invest in our UberEats-like food delivery clone, you don't have to worry about the technical stuff! All you need to do is focus on managing and marketing your business.
Professionally White-labeledFood Ordering App
White-labeling is an essential process when launching a pre-built solution for your business. Our tech team takes just 1-2 weeks to white-label your UberEats Clone app and launch it. We understand that you want to build your brand, and we can help you do it seamlessly!
We will integrate your brand name, logo, preferred currency, languages, and color theme to make your app unique as per your business requirements. All you have to do is share your branding elements and ideas with us, and sit back and relax while we do the magic! The best part is that we offer white-labeling services for free once you purchase our on-demand food delivery package.
Meticulously Engineered Website and Admin Panel
Explore the website and admin panel flow. See how both of our high-end modules work and help your on-demand food delivery business thrive.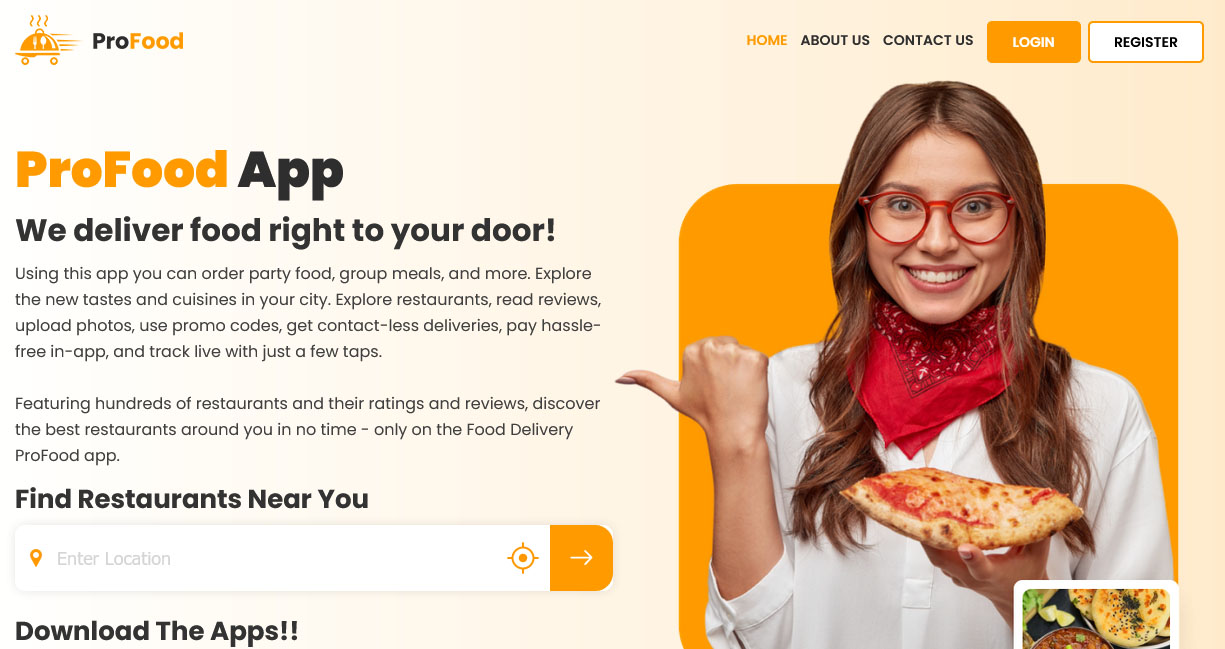 Responsive Website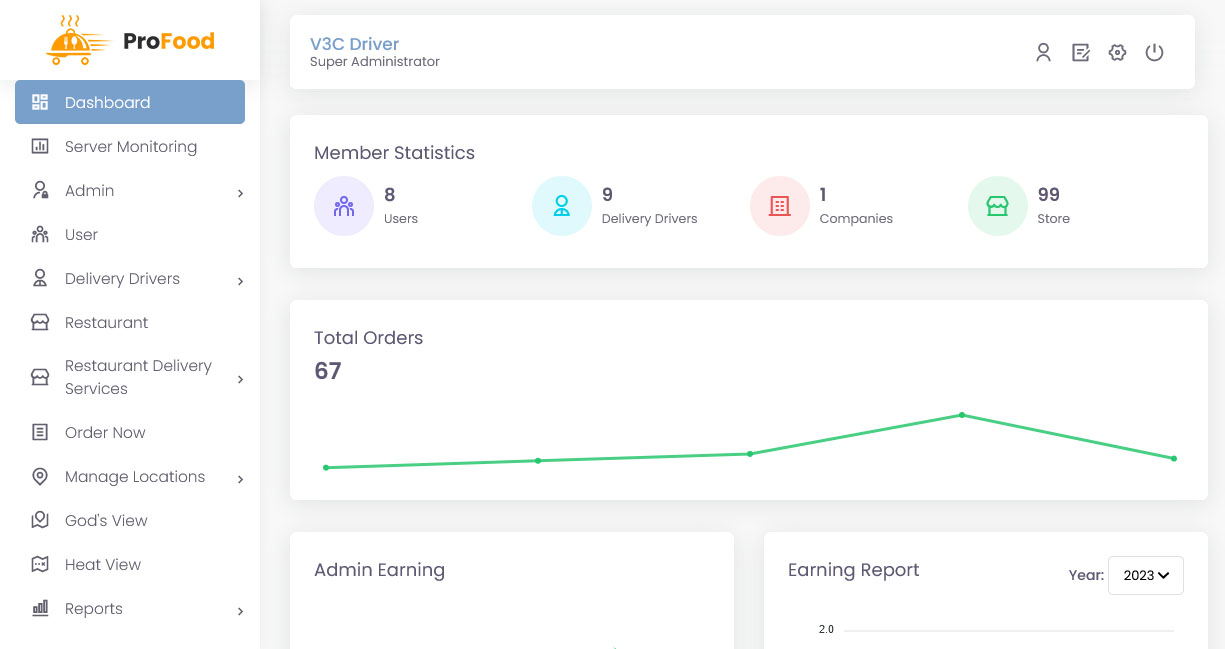 Admin Panel
How Much Does It Cost to Build an On-demand Food Delivery App?
Developing a cutting-edge app like UberEats can cost you a fortune if you build it from scratch! However, investing in a ready-made application like ours means that you can quickly launch your business without emptying your pockets. White-labeling and launching a ready-made application is way more reasonable than developing everything from the ground up.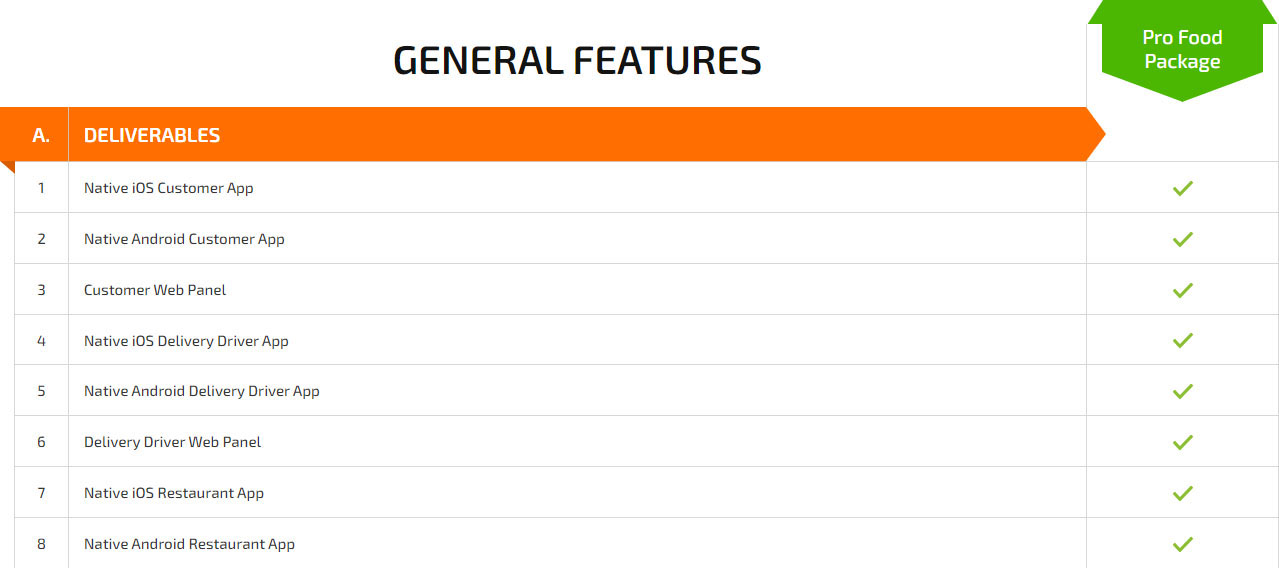 How On-demand Food Delivery App Works
Watch the videos to understand the unique features and functions of our UberEats-like application.
Testimonials from Real Entrepreneurs
We have been serving entrepreneurs from around the world for more than a decade now! Here are a few testimonials from our happy clients sharing their experiences and views about our services and products.
Explore our Other Top-notch Products
Discover our other on-demand products and ready-made solutions that you can use to expand your business and tap into different industries.
Language and Currency Options We Offer
Integrate up to 25 different languages and currencies of your choice and let your users enjoy the ease of ordering food online.
| Country | Currency | Language |
| --- | --- | --- |
| US | Dollar | Spanish, French, Hawaiian |
| Brazil | Brazilian real | Portuguese |
| Saudi Arabia | Riyal | Arabic |
| Malaysia | Ringgit | Malay |
| Indonesia | Indonesian rupiah | Indonesian |
| Nigeria | Nigerian naira | Hausa, Yoruba, Igbo |
| Mexico | Mexican peso | Spanish |
| UK | Pound sterling | English |
| Vietnam | Vietnamese dong | Vietnamese |
| France | Euro, CFP franc | French |
| South Africa | Rand | Afrikaans, Sotho, English, Xhosa, Zulu |
| Germany | Euro | German |
| UAE | United Arab Emirates dirham | Arabic |
| Canada | Canadian dollar | French, English |
| Australia | Australian dollar | English |