Free Features Of Our Uber For Maids App
That Others Charge For
Uber for Maids script
The Best Script in the Market
We have spent a whole lot of time and a lot of intellectual energy in building this Application. This is why we have been successful in creating the perfect script for this Application.
We have bundled up the top things to run your business together in the App. Our package includes:

Uber for Maids App Graphical Flow
Check out how our On-demand Maid App works! Take a quick look at all the Cool Features we have to make it super easy for your users to book Home or Office Maid Services.
Uber for Maids: Streamlining Odd Jobs Efficiently!
There is a great demand for domestic cleaning, cooking and laundry services, everywhere across the globe. Whether it is a simple sweep and mop or cooking an elaborate meal for the family, or a combination of both, your Maids will deliver all that and more.
Any client looking for a Maid will register on the cleaning service App with their personal details and their credit/debit card details for easy payment.
Whenever they require the services of a Maid, they will simply log into the Maid service App, and choose the job that needs to be done from a preset list of services, whether it is cooking, cleaning etc. They will also input details of when they want the job done i.e. date and time. Jobs can be booked on demand or in advance.
Once the details have been completed, all the "live" Maids in the locality will Appear on the screen. Users can glance into their profile, experience, ratings and reviews and the rates that each Maid charges by the hour.
Clients can pick the one they like best and select her for the job. The Maid will get a text message and an email notifying and confirming her of the job.
At the Appointed time, the Maid will go to the client's premises and start her timer when she starts doing her job. On completion, she will switch the timer off. This process triggers the invoice to be generated, a copy of which goes to both the client and the Maid.
The payment is automatically cleared from the client's debit/credit card. Both the Maid and the client can review and rate each other.
Uber-Like Maid Service App: Become a Domestic Goddess!
Launch a domestic service like no other - a modern way of cleaning, cooking and doing all the odd jobs that people want to be done at their homes. With this unique on demand Maid Service App clone with classy features, you will be the owner of a business that matches no other.
Give your customers the perfect opportunity to hire the right resource whenever they need it. What's more, you can continue to make money right from the get go. A single investment can reap you the benefits of a well established business forever.
Start earning while your Maids clear, cook and clean homes, this App will provide a fantastic opportunity to make money while all your clients are happy with your services. Built on Latest technology and loaded with features, there's hardly any way you could go wrong!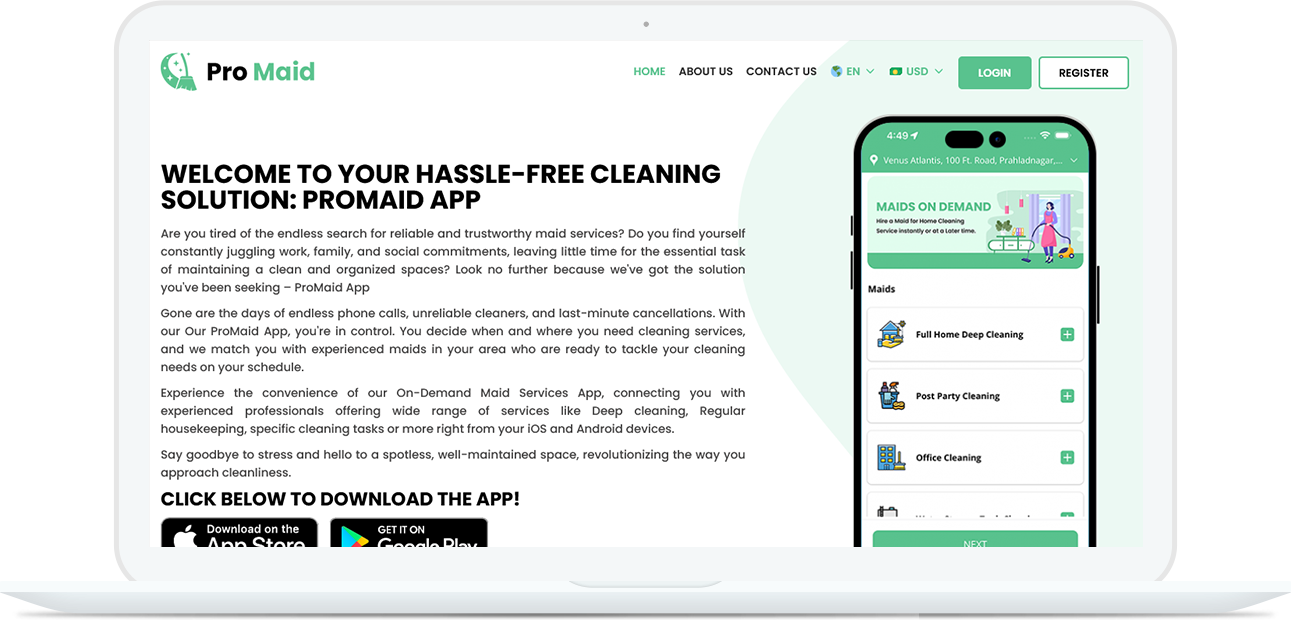 Web Panel's Included
Cleaning Service App Package - The Domesticated Website, The Maid Web Panel, And A Clean Client Web Panel For That Ultimate Service
A sophisticated web panel to pair with your website will change how your business works. We believe in offering nothing but the most comprehensive and holistic solutions to you. This is why we dont just stop at Apps. We bring to you the most sophisticated and well made web panels for the Maid On Demand Application. Try now and see for yourself!
Although we give you a list of predefined services, you may have ideas of your own that you wish to implement for your business. Talk to us and we will do the implementation for you.
You are a boss in your own right, of all the Maids and the system too. Get that App like Uber for Maids that will earn you a fortune from this homely business.
How Much Does It Cost to Start an Uber Maid App?
Creating an Uber-like Maid App doesn't have to break the bank. Our ready-made solution is much more affordable compared to developing it from scratch. Once you Purchase our Package, you'll get tried and test scripts to launch advanced iOS and Android Apps, a website, an admin panel, support panels, and more. You only pay for what you want, not a single penny more! Check out our Pricing Page for more details.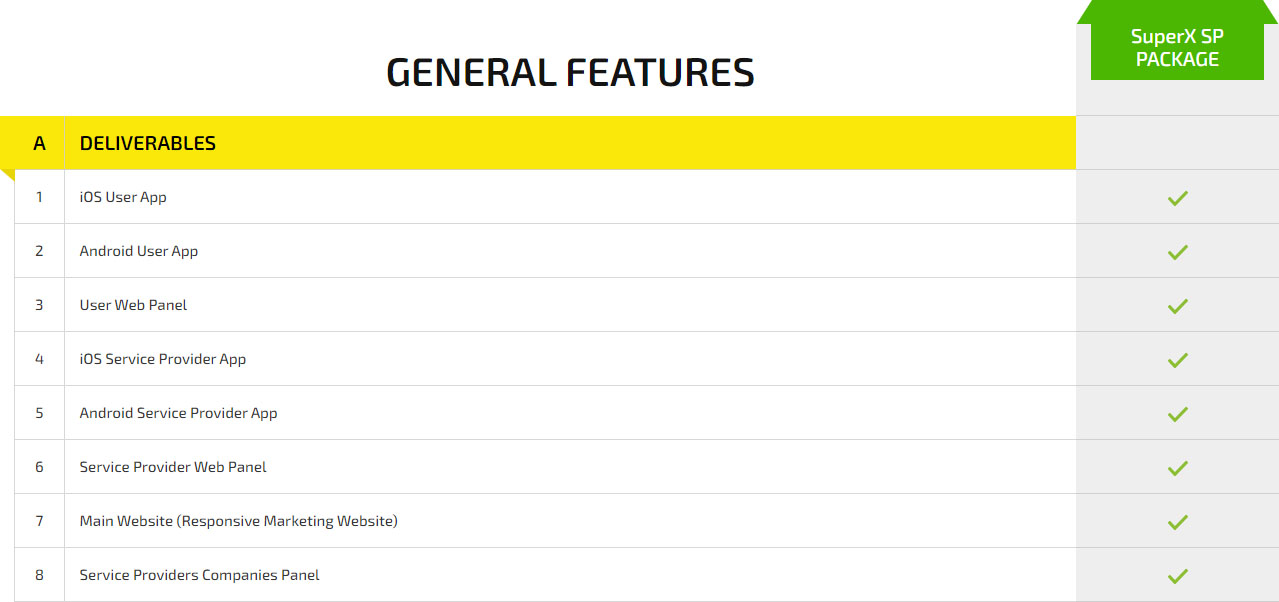 View Features & Pricing
Words of Appreciation from Our Clients
Watch more than 100 Testimonials from Real Entrepreneurs and discover why we are the Best in the Market.
Get all the reasons you need to believe that we offer the best White-labeling Services.