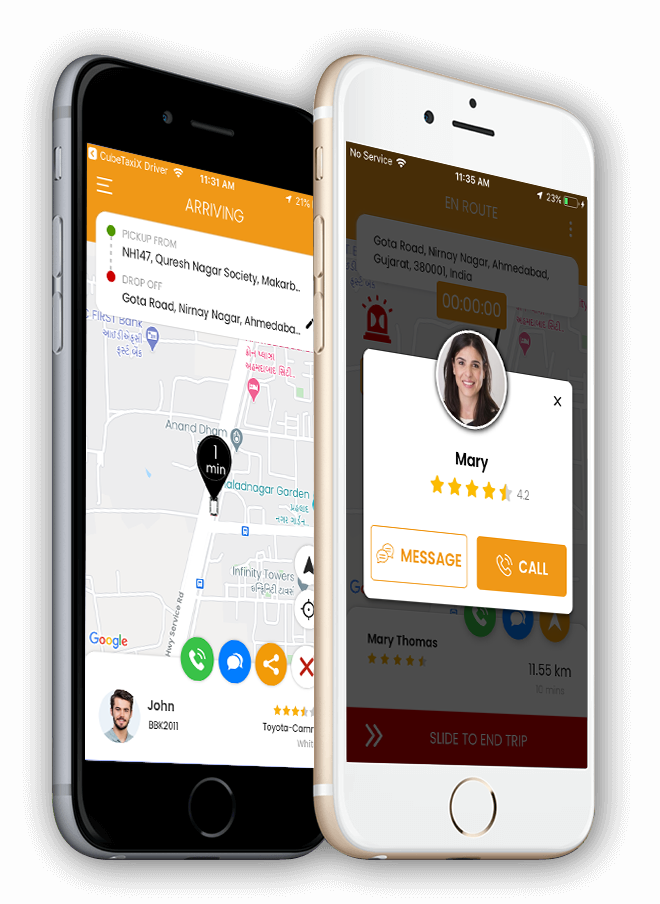 Uber Clone Package
We are happy to inform you that we have assisted many companies to launch their Uber Clone - Taxi Booking software recently. We will be available to launch all Apps and Web Panels for you on your Brand name on your Server & Play Stores in just 3-4 working Days. This also includes adding your preferred Language, Currency, Logo and White Labeling to the Apps.
Our standard Uber taxi clone & GrabTaxi clone package consists of following Apps & Web Panel's :
Uber like Website
Passenger/Rider iOS App
Passenger/Rider Android App
Passenger/Rider Web Panel
Driver iOS App
Driver Android App
Driver Web Panel
Sub-Taxi Company Web Panel
Manual Dispatcher Panel
Billing Administrator Panel
Administrator Web Panel that will help manage the full workings of the App including Passengers, Drivers, Payments, Surcharges, Vehicle Types & their Commission Rates, Reports, etc.
Uber Clone Features
The Features That We Provide Free But Others Charge
Licensed Source Code

Upon the delivery of the apps, we'll send you licensed uber clone source code for Website, iPhone & Android App that will allow you to modify / customize the code as per your requirement. Your in-house team or your local company will then be able to make modifications in it.

Approval Of Apps On Play Store

We are fully responsible for our work and our Apps. Since we follow optimized and rigid methods to develop the apps, they get instant approval on the Apple/iTunes and Google Play Stores. We will ensure that your uber clone app also gets instantly approved by them and doesn't get rejected for any technical reason.

White Labeling

Our package includes White Labeling our Uber app clone and Web Panels on your company's name and brand at no extra cost. On your Apps or Web Panel's, we will nowhere write or say that yours Apps are developed or maintained by us.
12 Months Support

You get 12 months support for the product, so you can continue to open tickets and post questions, etc in our support system. *Change request not covered.

Manual Taxi Dispatch Panel

Normal people just give you a call and you book taxi for them through our advanced Manual taxi Dispatch Panel. Get God's view / Satellite view of the city and see all taxi available on Map. Manually or auto allot the requested ride to the Driver who is nearest to the user's pickup location.

Payment via Credit Card, Cash or Wallet

Passengers can pay the Driver by either Credit Card, Cash or Wallet. If the payment is via Credit Card or Wallet, then the money will automatically be deducted once the Ride is completed. You can have all 3 methods on your taxi booking app or 1 or 2 preferred method of payment from these 3 as per your business market.
Get Apps in your preferred Language

Along with English, your one primary language or lingua franca will be integrated into your system for free. Let us know which language you need and we'll integrate it into the Uber clone taxi App. This includes all languages ranging from Portuguese, Spanish, French, R2L Languages like Persian, Arabic, etc.

Get Apps in your preferred Currency

Your one primary currency will be integrated into the system free of cost along with the USD. Let us know which currency you need and we'll integrate it into the Apps. This includes all currencies ranging from EURO, AUD, CAD, BRL, GBP, MXN, ZAR, IRR, TRY, AED, etc.

Internal Chat

Allow Driver and Rider to text chat with each other using our internal Chat App once a ride is booked until the ride starts. All chat logs will be stored in your database so you keep a legal record of their conversations.
Strict Observance of Privacy Policy and NDA

Our customer's success is of utmost importance to us. This is why we adhere to a non negotiable non disclosure agreement. We understand that you would never want your competitors to find out who developed your uber clone app originally so that they can never avail an enhanced version of the same app and beat you at your own business. This is why we never disclose your name or the name of the apps that we have built for you in our portfolio.

iOS App Rejection Support for Free

We've been around for quite a while. We've been launching an average of 2 apps per day across the iTunes play store. We know what gets rejected and what gets accepted. We will ensure that your taxi ios app doesn't get rejected at all for any technical reason in the iTunes Play store. If there is any other issue apart from technical, we'll still stand by you and give you the necessary guidance to get through to the app store.

Android App Rejection Support For Free

We are proud to inform you that we have launched over 480 apps till date and therefore can say that we know the ins and outs of getting an app accepted on the Google Play store. We are there with you throughout the process of getting your taxi android app launched and installed for Android. We assure you that your app will not be rejected due to any technical reasons at all. For any other reason, we will be your ethical guides till your app is launched. This too is a service that we are offering for FREE!
Pickup And Drop Restriction Using Geo-Fencing

Avoid high risk or crime prone areas for pick up and drop with the help of our FREE geo fencing feature. This feature will enable you to mark areas as "out of bound" to avoid any unnecessary troubles.

Preference Based On Gender

You can easily give a female friendly option to your drivers and riders with this feature. Women drivers can choose women only passengers and women passengers can choose female drivers! This feature has been built specially keeping in mind the safety and security of your female users.
Sos / Panic / Emergency Button

The Panic Button feature helps your customers to utilize it in case of an emergency. This button will immediately put him or her through to the police control room apart from three emergency contacts listed by the customer in the uber clone app.

Pubnub Integration

To show a smooth movement of the cars across the map that will set you apart from the other apps, our pub nub integration is the best solution. This too is a FREEBIE from our end.
Constant Gps Tracking For Legal Protection

The GPS tracking system ensures that you can always keep a tab on where every individual car of your fleet is apart from which rides are going on and where are they headed. Every "ON TRIP" driver is traceable. In case there are any legal issues you will also have an access to these details for assistance.

Sql Injection Proof Coding Structure

In order to make the system more robust SQL injection type algorithms have been impletmented. A very systematic procedure has been followed to maintain security for the Uber app clone.

Seo Settings

We offer first-class SEO services to make certain that your app can be merchandised well and can become more and more available for your customers. Any setting associated with SEO of all web based pages can be handled from the Administration Panel.
5 ways to Login/Register

Allow users to login / register via Phone number, Twitter, Facebook, Google Account or using any Traditional Email account. This way, we allow riders to easily & quickly register with our Apps. More users means more business. All registrations will be verified by OTP/SMS and thus our uber clone App will not allow any fake registrations to happen.

Advanced Reports

Have access to advanced reports which will assist you in planning your business and to make future decisions. The major reports include Payment Report, Referral Report, User Wallet Report, Driver Payment Report, Driver Log Report, Cancelled Trip Report, Ride Acceptance Report and Trip Time Variance. These reports will let you know the revenue/profit you are generating, what you need to pay Drivers, how many rides has a Driver Cancelled. You even see the detail of rides that were Requested, Accepted, Cancelled, Ignored, Completed, etc in certain time.

Other Top Features

Hundreds of advanced features that no other Company's App will have. Eg. Auto Toll Calculation, Waybill, Surcharge, Cancellation Fees, Tip, Gender based Preference, Handicap Accessibility, In-App Notifications, Taxi Hailing, Restrict Negative/Crime prone Areas for Pickup & Drop, Advanced Analytics, Pubnub Integration, Option to use Waze or Google Maps, Heat Views, Panic/Emergency Button, Book a Ride for later time, God's Eye/Satellite View of your city, etc.
Check all our Advanced Features.
New features of Uber Clone available from 10th March 2018
X to ylocation
We offer this one of its kind feature that lets you to keep a fixed cost for predetermined popular pick up and drop locations like point A and point B. For e.g. if the usual quantity of total rides between the airport and the railway station is very large, you can mark it at a fixed price of "X".
This price will remain constant against all other variable like traffic, surges or any other reason. These 2 places can be 2 places within the city or a ride that is common between two points in two cities.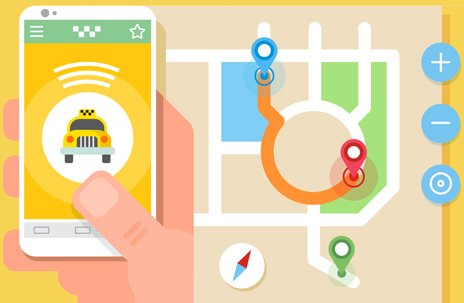 Call Masking
Call masking is a very significant safety feature that you don't want to miss out on! You don't want to put at risk the wellbeing of your clients. This feature conceals the personal phone numbers of both the riders and the drivers in case they call each other to discuss pick up.
All your female clients will appreciate your efforts in taking care of their safety!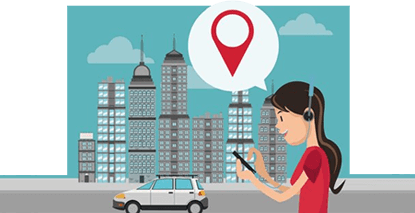 3
No need to pay for upgrades anymore! We bring to you the best upgrade offer anyone in the industry has ever heard of.
3 full years of annual upgrades for your uber clone Script! Just ask us for the updates and we'll give it to you!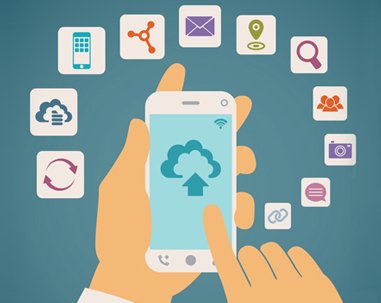 Cool Car Rentals (Available from 15th May 2018)
Your taxi booking app is even better now with the added feature of Chauffeured Car Rentals. Let your customers hire a car for a fixed duration and distance at a particular rate. All fields are dynamic so you can set prices just as you like!
Visuals & Flow of some of our Advanced Features
Most Crucial Step of every Uber clone Taxi App - Make it super easy for Riders for Register
Buy Uber Clone from our company and leave everything on our experts. Here we'll show you some of the advanced features of our Apps. Let's start from Registration and Login feature. This is one feature will either get you millions of users or will fail in the market. In our Apps, a Rider can simply register & login into the app via Email, Facebook, Twitter, Phone Number and Google. This way, we make it easy for Riders to Register in your App and thus you cover most of the market in short time.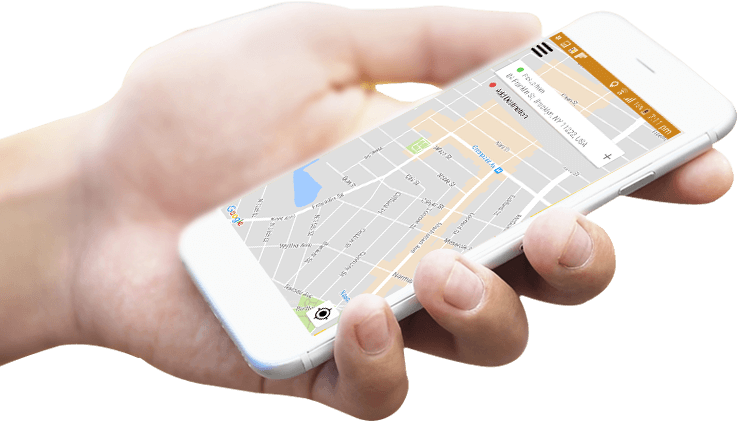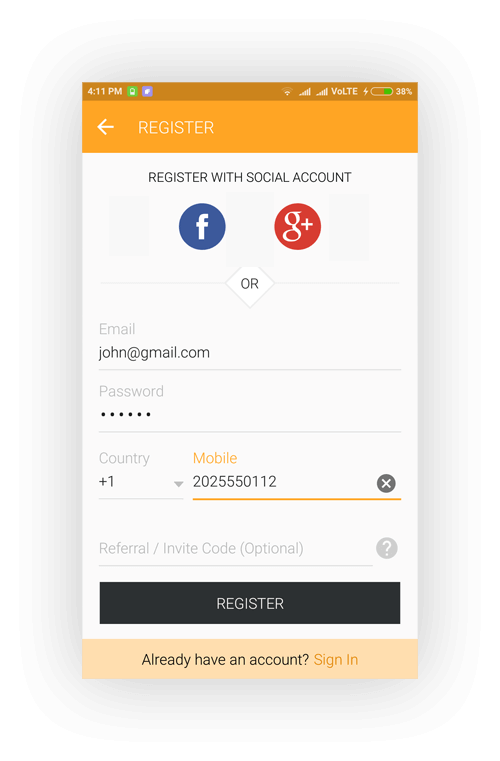 Unlimited Types of Cars as per your city with your city rates. This feature lets you cover all cities and countries of whole world.
With our Uber clone you get a feature that will allow you to set different cars for different locations and cities. Eg. My city likes Sedan and SUV Cars only. So the App owner will only set Sedan and SUV cars and their Rates as per my city.
Maybe there is another tourist city where people prefer all kinds of Cars. So in that city you can set Hatchback, Sedan, SUV, Limousine Cars. And set rates & surcharges accordingly. Also define Driver's required documents as per that city's jurisdiction & transport rules.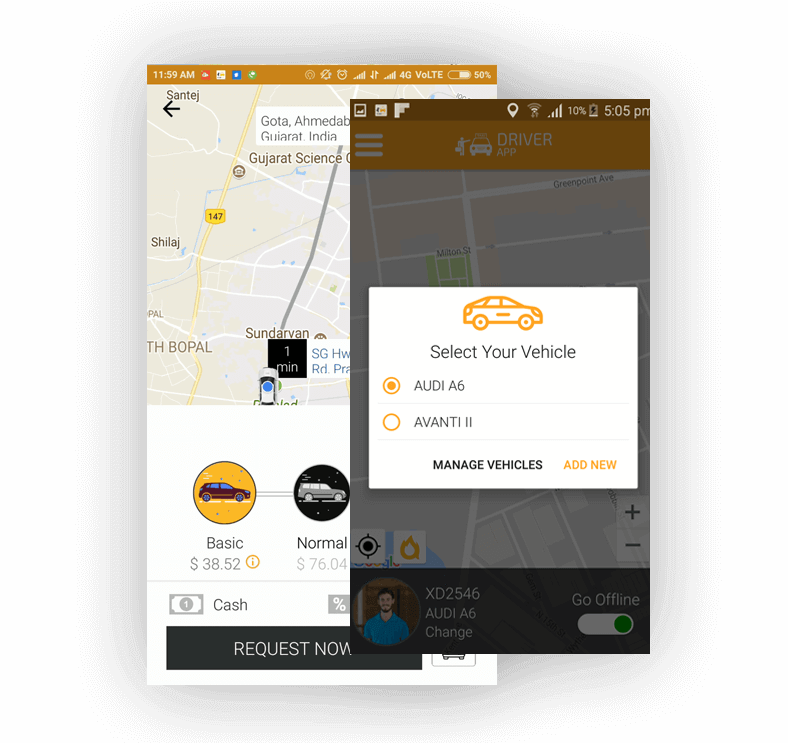 Uber App Clone has 3 algorithms for requesting Taxi that you can choose for your business:
a. Just like Uber, every Taxi Driver in your X Mile/KM range gets request and who ever selects it 1st, get the Ride and comes for pickup.
b. The Taxi Driver who is waiting for Ride since longer time in your X Mile/KM range, gets 1st preference. If he doesn't accept the ride, the next one gets preference. This method is called as FIFO.
c. The Taxi Driver who is nearest to Rider get's 1st preference. If he doesn't accept the Ride request, the Taxi Driver who is farther from him gets the request.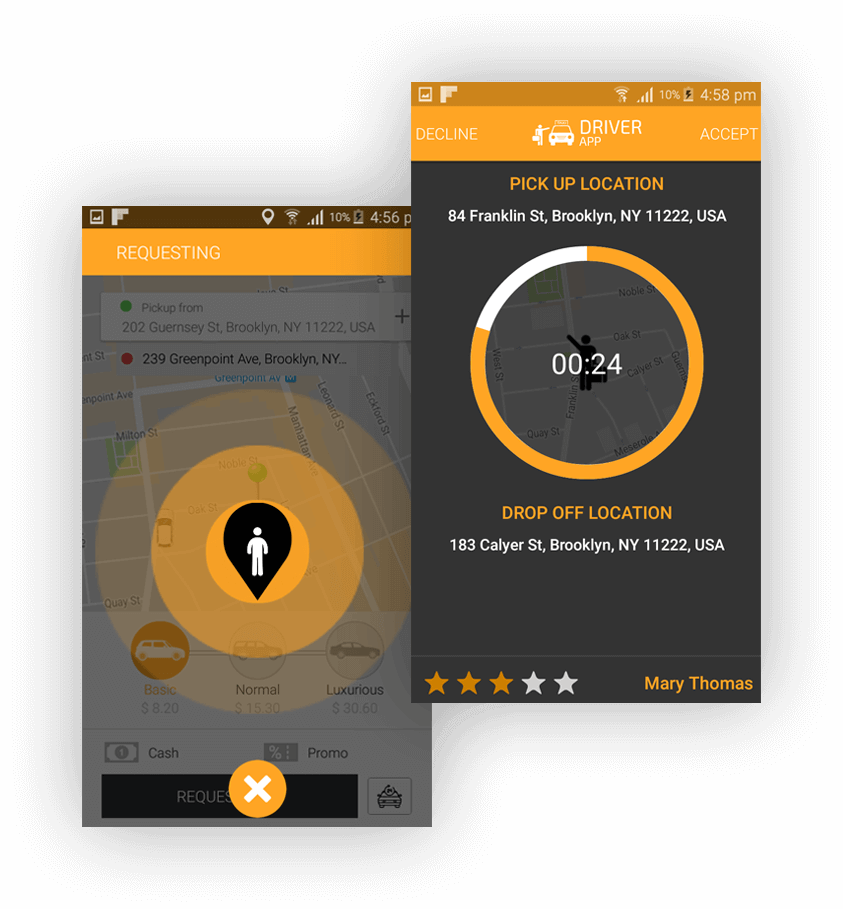 Apps Customizations
We will be available to modify the Apps for you, however in case, you want your internal team to take care of them, we'll simply zip and send you the Uber Clone Source Code of our Apps.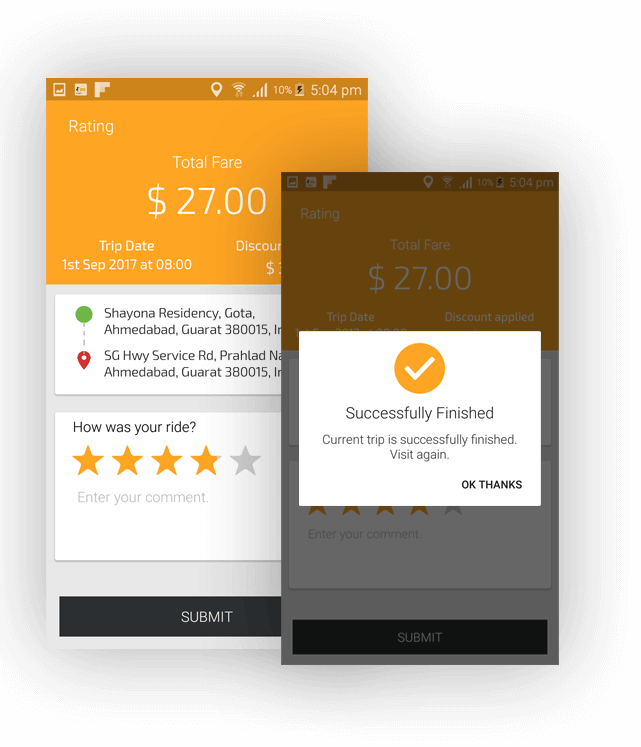 Generation of Invoices & Reviews/Ratings after Trip Completion
At the end of ride, view and get Invoice emailed to you with Tax & VAT as per your location. Let us know what rules of Tax and VAT are active in your location or as set as per your Transport Government and we'll set them for your Uber app clone. And after the ride is completed, let Driver and Rider review and rate each other. This way, you eliminate drivers who provide poor services and bring bad name to your Taxi Company.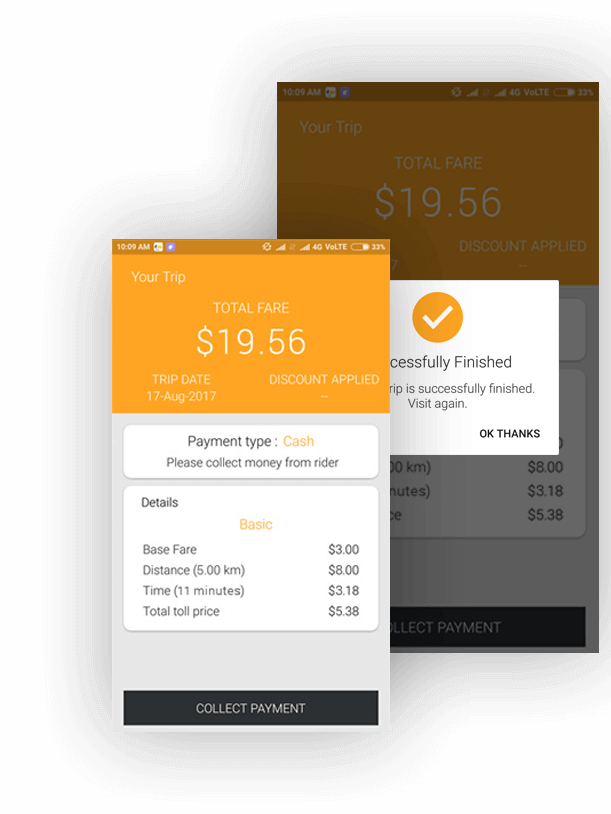 what support you get?
Bug Support

We take pride in our work and that is why it is of supreme quality and a thoroughly tested and optimised uber clone app. However, if you find any bugs in our code, please do report them and we will work on in with a turnaround time of 1 working day. This service will be provided free for the first year.

Licence For A Lifetime

Taxi Booking software that you get will come with a lifetime license for one domain/ brand. With a one-off payment, your software will be covered for the duration of a lifetime.

Linux Server Installation

You will not require expensive licenses to host the code, as the Web Panels will work smoothly in open source Linux Servers. You will be informed of the server configuration that will be required for hosting the code by our technical team.

Open Source Database

We use MySQL, which is an open source and one of the safest databases. You will also not have to pay exorbitant prices for license renewal every year.

Free Support For Banner Images And Changes To Text

If you require any text or banner image changes, our team will make the relevant changes at no cost to you for the first week.

Our Bug Tracking Software At Your Service

A thorough live testing is done on all over products, on the road and using different devices so that all the bugs are eliminated. However, if there is a bug in the Uber clone App, you just log into the bug tracking system and input the details. Our team will respond to your within 24 hours.

Open License Code For Customisations

We provide a 100% open license code that will allow all types of customizations. Any Senior Software Developer in your team will be able to make the relevant modifications in the uber clone source code.
time to market : 48 hrs.
Using our uber clone for On demand taxi service, you can start your most profitable, automated mobile based venture yet, in less than 4 days. This time is required to configure & White Label the Apps with your Logo, Splash Screen, Chosen Color Theme & Design Style, Currency & Language, etc. Have a look at our demo & pricing for Detail.
DIFFERENT VARIATION AVAILABLE FOR UBER CLONE RIDE/TAXI
UBER CLONE SCRIPT TECHNOLOGY USED & SERVER REQUIREMENTS