Free Features Of Our Uber For House Cleaning App
That Others Charge For
User Interface and scripting
The most imperative thing about any application is the ease of the user to reach, gain access and work with your app. This means your users should be able to access your app easily from anywhere over any device across any platform. This is why, our team of skilled experts provide an app so unblemished and exclusive that it comes pre approved on the Google play store and Apple store.
On demand home services app has a better quality user interface and is thoroughly responsive and by this means runs without a glitch over all digital assistants. What's more, since the root of its script is that of The very popular taxi apps you certainly do not need to worry about its superiority!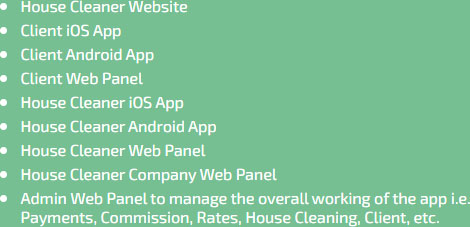 Uber for House Cleaning Graphical Flow
Here's the Graphical Flow of our On-demand Home Cleaning Service App. Glance through all the Advanced Features and Functions we offer to help your users Book Services seamlessly!
Step-By-Step Guide To Using The Home Cleaning On-Demand App
Look at the step by step flow of the home cleaning on demand service app and get ready to get amazed with this amazing app which will not only enable your users to get a unique cleaning experience at their fingertip but also enable the home cleaners to make good money along the way and make sure that you as the appreneur make whopping profits along the way.

You got a party at your place? Lots of guests around but you are wary about who will clean the house up, what will happen if you cannot find a home cleaner and so on and so forth? Thus to enable a seamless cleaning experience for you, the home cleaning on demand service app is here to your rescue. With this app you will find a home cleaner for yourself at your fingertips and be assured of a flawless cleaning experience for your home or the location where you require the home cleaning service. This is how the app works.
You first need to login to the home cleaning on demand service app using your social media profiles like Facebook or Google+ or create an account with your email address, name and mobile number and enter the application menu which will present you with a list of all the different types of home cleaning services like full home deep cleaning, post party cleaning, office cleaning, etc, to name a few and you have to select from any one of the services listed below. You can also select more than one service at a time.
Upon selecting the service/services, you get connected to all the nearby home cleaners along with their ratings and their map view and you have to select the home cleaner of your choice.
As soon as you select the home cleaner of your choice, you are presented with a list of all the services offered by them along with a gallery of their past work and the past reviews as well and you need to select the service/services that you require from them.
Upon selecting the service/services you desire, you have to tap on the Checkout Tab to confirm the services that you require from the home cleaner. This presents you with a booking detail summary containing the details of the service/services that you require from the home cleaner.
You need to select the mode of payment that you wish to choose while paying the home cleaner, i.e., cash or card along with the location where you need the services and then schedule the booking for the same day or a later date.
With this step getting completed, the home cleaner receives a request on their app as soon as they set their availability as online.
They accept the request which in turn leads to you receiving the request on your app as 'Home Cleaner Has Accepted Job Requested and Will Be Arriving Shortly'.
You can keep track of the home cleaner and stay connected with them until their arrival through internet calls and in-app chat.
As soon as the home cleaner arrives, you get a message on your app 'Home Cleaner Has Arrived' and then the service begins.
You can keep track of the progress of the home cleaning service on your Home Cleaning On Demand Service App.
As soon as the home cleaning service gets completed, you get notified of the same with the message 'Home Cleaner Has Completed Job'.
An invoice summary gets generated on the screen of the home cleaner which also gets shared with you containing the details of the home cleaning service/services availed by you. In case of cash payment, you need to pay by cash to the home cleaner and in case of card money gets automatically deducted from your card.
With the completion of this step, you can provide a review to the home cleaner and rate them based on the experience of service/services.
Digital Cleaning Agency: Convenient and Affordable!
This unique app has the best features for making your business stand out in the cleaning industry. A business that is ready to start earning for you in just three days is definitely a worthwhile investment for on demand home services app that will modernize the world of cleaning.
Get the HouseJoy clone app for smart cleaning and quick earning. Be bowled over by the clean way that money comes into your bank account from every cleaning job booked through your app. This app is a robust solution handcrafted for you by some of the smartest minds on the world.
Digitally engineered to perfection, this app will ensure that more and more customers can connect with the right kind of home cleaning service providers instantly with the tap of their smartphones. All this, while you can peacefully continue to earn money.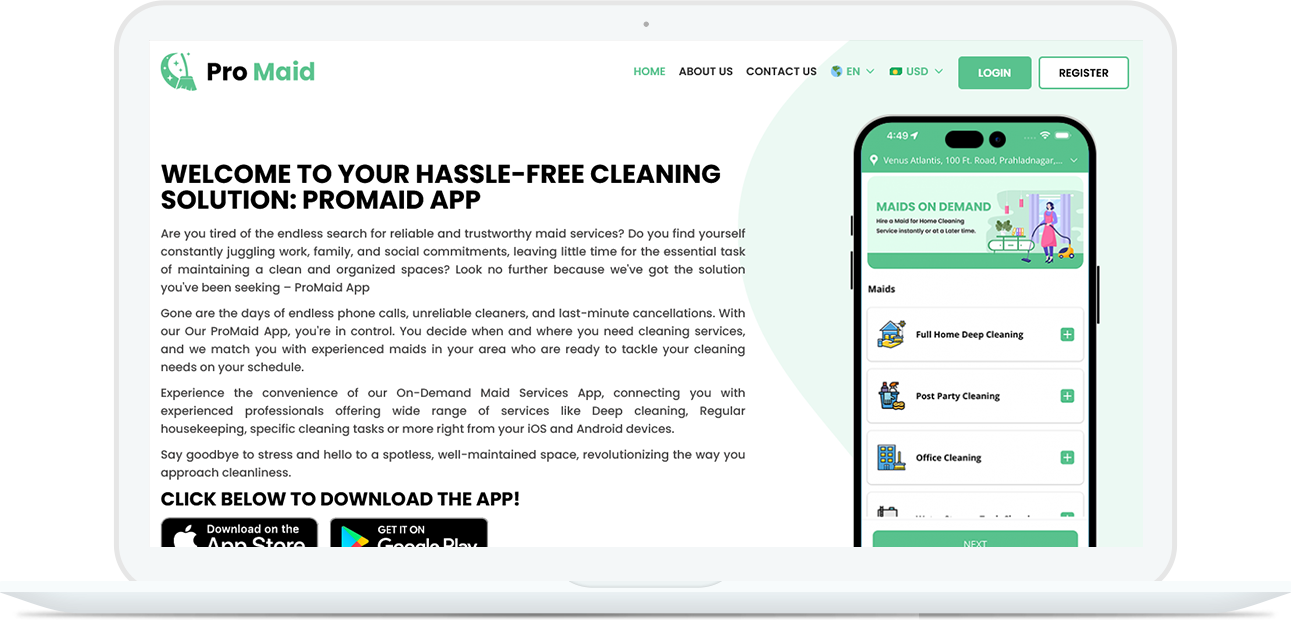 Web Panel's Included
The Clean And Completely Unique Package - The Clean And Interactive Website, The Perfect House Cleaners Web Panel, And Client Web Panel For That Fresh And Clean Experience
Our apps come with the basic list of predefined features. However if you have an idea that will further revolutionize the cleaning industry, then by all means tell us about it and we will make sure that we will design your uber for home services app in such a way that you give the best cleaning services whilst making top money.
As the owner of the Uber for home cleaning services, you will have total charge of the whole system - the services you provide, the house cleaners registered with you as well as the finances. You can define the rates for the services you offer accordingly.
How Much Does It Cost to Launch an App like Uber for Home Cleaning?
Developing an On-demand Home Cleaning App using a Ready-made Solution like ours is Pocket-friendly compared to doing everything from Scratch. When you buy our Package, you'll have the Best Scripts to launch Advanced iOS and Android apps, a Website, an Admin Panel, Support Panels, and a lot more. Here, you will have to pay only for what you need to launch the Market-relevant On-Demand House Cleaning Services application.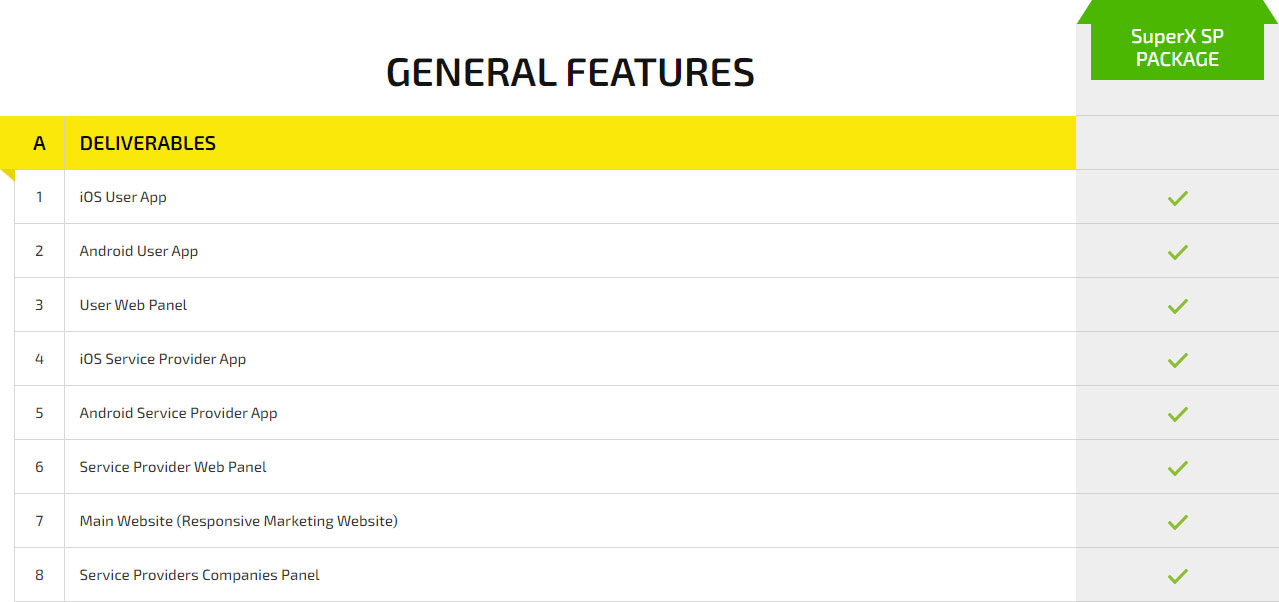 View Features & Pricing
What Our Happy Clients Are Saying
Watch 100+ Testimonials from Real Entrepreneurs and learn why we are The Best at What We Do!
Home service app Development
Reliable:
We have a good reputation in the industry and we developed it by our smart working culture. We also try our best to provide the maximum satisfaction level to our clients and also value the importance of relations. We believe in the ideology of trustworthy surrounding to make our work better. Trust is the basic pillar by which one can break all the barriers to reach their goal, and we work focusing on the same pillar.
Flexible:
We design the applications in such a way so that it does not create any hassle for the customers to use it. In short, we create user-friendly applications. In case of any change in the application, our team is always ready to customise your requirements based on your needs.
Transparent pricing:
Maid Finder app allows users to look at the prices and get an accurate breakdown of the total cost that they have to pay.
Experience:
We have a superb team of experienced and passionate tech-nerds who have also worked in top class Multinational Companies of the world. These technical masters are well experienced about how to make a perfect app that matches the client's requirements.
Convenient:
Getting an app developed by us is convenient for the customers as we provide assistance at every possible step to make our client more satisfied and happy. We have a team of different departments targeting different categories which are helpful in the development of different applications.