Ready to launch in 3 - 4 days

Help customers find their perfect lift with Lyft clone
In order to run your business smoothly and successfully, we will give you a package that consists of the following mobile apps and web panels.
A 100% responsive main website
Rider's iOS App, Android App and web panel
Driver,s iOS App, Android App and web panel
Web Panel for Company
An admin Web Panel for managing payments, passengers, drivers, commission rates etc
With the increase in traffic leading to congestion and confusion, more and more people are opting to ride a taxi rather than combat the traffic and stress themselves from driving. We have therefore specifically designed the Lyft Cab Clone Website and the accompanying Apps for entrepreneurs to provide that perfect taxi service to their customers. We have designed the apps such that you can give the best taxi experience to your customers at your convenience and preference. When you buy the lyft Android and lyft iOS clone from us, you will be providing an ideal platform for your users from where they will be able to find a ride at their convenience in the most convenient and easy way.
The Lyft Clone That Matches No Other
The cab sharing clone that we have designed is not simply a medium of helping people find a cab. It has been specifically designed to ensure that the riders get a safe, and economy friendly ride, one that they can enjoy in comfort. Our clone has been designed such that customers can input their personal preferences like ladies only, or non smokers required. When you make that decision to buy the clone of lyft share mobile Apps from us, it will be the best decision made as this idea is not only a unique one but also you will be buying into a business that make you the owner of a unique site. A site that is unique in such a way that it helps commuters to travel at reduced rates whilst reducing the global carbon footprint. As the proud owner of this unique ride hailing app and business you get to make a fixed percentage commission on each and every ride booked via your app.
The Most Amazing Features
Do not mistake our cab sharing website and Mobile Apps as just another run of the mill websites that the Internet is flooded with. Our website has been designed such that it will forever change the way you run your business. It all begins with your outstanding webpage - people are more prone to use it. The flawless intuitive flow of the site ensures that there will be no problems for anyone using it. It already has a predefined market as the lyft clone is a clone of an already existing site, a site that people are already using. It therefore makes it easier to find a customer base since they are all familiar with the lyft concept. Think of the ready market that will start earning you healthy commissions in no time! Since we are sure that your site will become so popular that you will need to expand, we have designed the site in such a way that there is definite room for future expansion. In order to help you in increasing your business quickly and effectively, our lyft clones come with a multi language option whereby you can get the language customized to suit the place you want to launch your app. The multi currency option also works the same way. For those who want to use the services on the go we have Andoid App and the iOS app for smart phone users.
Introduce the system that gives your customers the facility to request a ride from their smart phone from wherever they are. Active drivers in the vicinity will receive notification about the rider's request and respond accordingly and provide the most comfortable ride to your customer.
Just order the lyft Mobile Apps clone and Web Site today, and we will provide you with the following apps and web panels:
The main website
IOS App for the Rider
Android App for the Rider
Web panel for the rider
IOS app for the Driver
Android App for the driver
Web panel for the driver
Web panel for company
An Admin Web Panel that will manage the full works - payments, rates, drivers, passengers, hot spot, and commission rates etc.
Lyft Clone site design template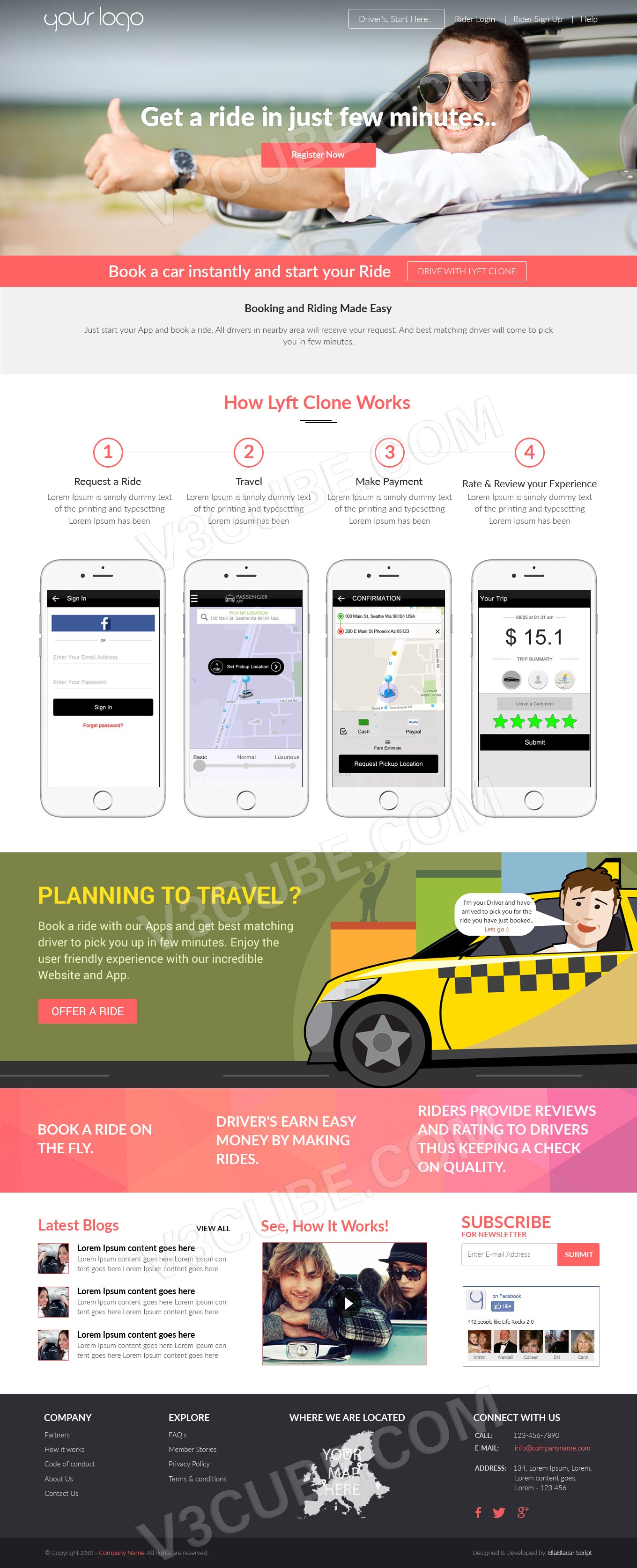 What Are You Waiting For?
If you are still unsure, it just might be an idea to take a site tour and find out for yourself. The look, the feel and the way the site interacts will definitely make you want to invest in the best and most profitable business venture ever.
For more details or to purchase the site, please Contact Us.